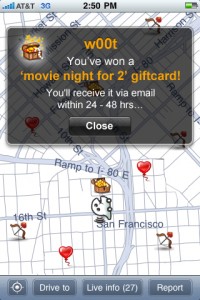 A while back I wrote about some iPhone apps (Music, Sports and Navigation: Five (or nine) iPhone Apps I can?t live without). One of those Apps was Waze, a free driver-generated map and real-time road information App for iPhone, Android, Symbian and Windows Mobile devices.

I use this App daily. Not so much for getting where I need to go because overall I'm really good with direction (except when driving in San Francisco), but for seeing what's out there in the way of traffic and if there is a better route to take. They make it fun to use as well, giving points for driving on roads not yet mapped or over special "road goodies".

Each holiday season so far, there has been a different contest with prizes (yea, I've not won anything yet, but still hopeful). Yesterday Waze introduced a "Valentine's Treasure Hunt", featuring "road goodies" (worth 10-15 additional points) as well as virtual treasure chests that, when driven over, have the potential to reward users with a real-world prizes — "movie night for two" gift cards or heart-shaped boxes of chocolate. From February 8 to February 14, 2010, users in the US and Canada, can look for treasure chests along their daily drives for their chance to win.

Additionally, you can now "ping" other users, maybe someone who is ahead of you in traffic to see if they know anything further about what's going on.

So if you see me on the road, please "Waze"!